Mule Hole check post
Mule Hole check post is located about 1.5km West of the watershed. The monitoring at the check post consists of :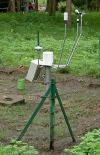 Meterological data of the automatic weather station (Figure 1): temperature (min, max, average), relative humidity (min, max, average), precipitation (total, hourly maximum), wind speed (cumulative, maximum), wind direction, cumulative radiation. Those results are given daily. Hourly temperature, relative humidity, rain, wind, cumulative radiation is also monitored.
Rain samples : manually collected by the check post staff each day it is raining.
Precipitations measured daily manually at the check post by the staff.
The gauging station to calculate surface flow was not set up at the exact outlet of the watershed (which is the cross between the jeep track and the stream) because just upstream this cross there is an opposite slope where the water remains stagnant after a flow event. The following is taken at the outlet:
Stream water level (Figure 2): monitored with a Thalimedes every 10 mn
Stream samples with the automatic sampler (Figure 2) are collected as soon as the level is higher than 14 cm every 1h30. It stops sampling when the level comes down 14 cm.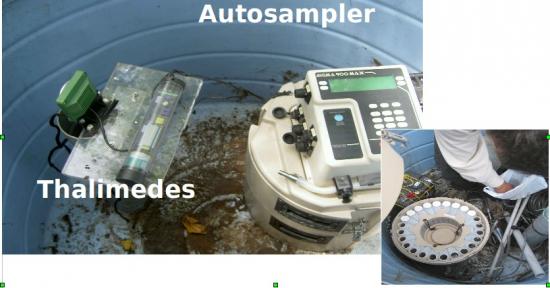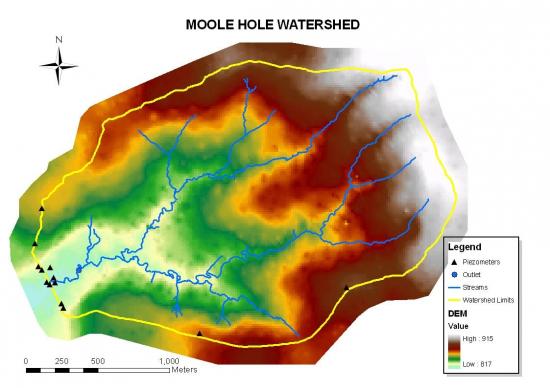 | | | | | | | | |
| --- | --- | --- | --- | --- | --- | --- | --- |
| Piezometer | Drilling date | Altitude | Prof. | Hard rock depth | Casing depth | Monitor. Instru. | Frequency |
| | | (m asl) | (m) | (m) | (m) | | |
| P1 | 10/05/03 | 826.01 | 45 | 30 | 45 | Thalimede | 1 h |
| P2 | 17/05/03 | 835.87 | 45 | 26 | 45 | Orphimede | 1 h |
| P3 | 17/05/03 | 844.55 | 61 | 34 | 61 | Manual | monthly |
| P4 | 17/05/03 | 856.00 | 21 | 20 | 21 | – | – |
| P5 | 24/07/03 | 859.90 | 58 | 23 | 24 | Manual | monthly |
| P6 | 24/03/03 | 881.90 | 58 | 17 | 18 | Manual | monthly |
| P7 | 01/05/04 | 826.63 | 20 | – | 17 | Orphimede | 1 h |
| P8 | 30/04/04 | 826.65 | 18 | 15 | 15 | Thalimede | 1 h |
| P9 | 29/04/04 | 832.70 | 23 | 20 | 20 | Manual | monthly |
| P10 | 28/04/04 | 832.50 | 29 | 26 | 27 | Orphimede | 1 h |
| P11 | 30/04/04 | 827.51 | 16 | – | 2 | Orphimede | – |
| P12 | 01/12/04 | 831.20 | 41 | – | 6 | Orphimede | 15 min |
| P13 | 01/12/04 | 829.01 | 29 | – | 7 | Thalimede | 1 h |
Tableau 1 Caractéristics of the piezometers monitored on the Mule Hole Watershed
Water table measurements : most of the borewells are equipped with data loggers that measure the water level every hour P1, P2, P7, P8, P10, P12 and P13. Every time we go for field trip (every month) a manual measurement of all the borewells is taken
Groundwater samples : 1 liter bottle collected for each borewell every field trip. pH and electrical conductivity are measured on the field