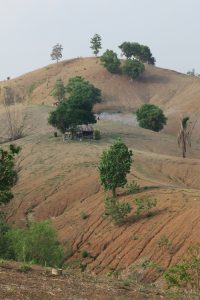 Global awareness of climate change has resulted in enhanced awareness of the fragility of natural systems and in a new longer-term perspective for national and regional planning. In South-East Asia, land use change such as the saturation of plains and deltas induces more and more pressure on mountain areas. Global change is thus an opportunity to radically rethink paradigms of agricultural production and watershed management.
The general questions the MSEC CZO aims at handling are: what are the in-site and the off-site effects of climate and land use changes, in terms of erosion processes (splash, sheet, gully, tillage, landslides), soil quality (organic carbon, structure, depth, etc.), runoff/infiltration partition, water paths, groundwater recharge, flooding, water quality (physical, chemical and bacteriological), biodiversity (weeding, soil macrofauna) and rooting?
A long term monitoring network of catchments in South-East Asia
MSEC is the network of three agricultural headwater catchments representative of the sloping lands of South-East Asia (Laos, Thailand, and Vietnam). It was launched in 1998, and started collecting data since 2000 on climate, land use, agricultural practices, stream discharge, suspended and bedload sediment yields. MSEC uses a uniform set of tools, methods and devices. Each MSEC catchment nests several monitored sub-catchments.
Objectives
Long term monitoring of the impacts of the rapid land use changes and the extreme meteorological events on water and sediment transfers within the catchments and at their outlets. Attention is increasingly focused on the quality of soil and water
Multiscale experimentation of the impacts of innovative agricultural practices on runoff generation and erosion processes under natural and simulated rainfalls
The development and the parameterization of hydrological and erosion models in order to capitalize on the database and to provide a high genericity of the collected data
Capacity building in the field of catchment hydrology and soil erosion, through on-the-job training, teaching, and student internships
Information dissemination to the scientific and stakeholder communities
Recommendations on land use policy to the national authorities
MSEC achievements (on Aug. 2020)
131 scientific publications in international journals, including 6 book chapters
31 scientific publications in national journals
1 special issue in the Lao Journal of Agriculture and Forestry (2008): Management of soil erosion and water resources in the uplands of Lao P.D.R. by Ribolzi O. (Ed.), Pierret A. (Ed.), Gebbie L. (Ed.), Sengtaheuanghoung O. (Ed.), and Chanphengxay M. (Pref.)
23 PhD, 4 post-docs
231 MSc, BSc and Agric. Eng. degrees (127 Laos, 90 Vietnam, 14 Thailand)