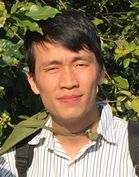 GIS Programming and Development, SFRI
Master, Engineer
Address: Department of Soil Genesis and Classification Research, Soils and Fertilizers Research Institute, Le Van Hien, Duc Thang, Bac Tu Liem, Hanoi, Vietnam
Phone: Office: (+844)38 362 381; Mobile: (+849)02 468 810
Email: ndtri.gis|DONTWANTSPAM|@gmail.com
Main fields of research and expertise
Nguyen DAN TRI's main fields are studying soil genesis, land evaluation and classification in tropical condition. For that, he carries out soil survey and land evaluation for crop planning. Following this, he is in charge of the establishment of geographical indications for agricultural produces, deployment of agricultural land database, GIS applications and WebGIS systems (Bao Tand Dat). Since the last seven years, he collaborates in different research and development programs linked to GIS expertise (Laocai rice, CABI, IRRI, NASA, ICRAF, etc.).
Selected publications
Bui Hai An, Le Thi My Hao, Nguyen Dan Tri, Nguyen Thi Thoa. 2017. Assessment of soil quality for agricultural production orentation in Ung Hoa district, Hanoi. Journal of Vietnamese Agriculture Science and Technology.
Tran Thi Minh Thu, Bui Tan Yen, Nguyen Dan Tri, Do Minh Phuong. 2014. Applied Information Technology in managing database of agriculture land resource of Bacninh Province. Journal of Vietnamese Agriculture Science and Technology.
Conference paper
Nguyen Dan Tri (2011). Opportunities to use spatial data and maps to provide personalized rice management practices to rice farmers. Proceeding of the Workshop: ICT and mobile phone applications for small-scale rice farmers, International Rice Research Institute (IRRI), Philippines.