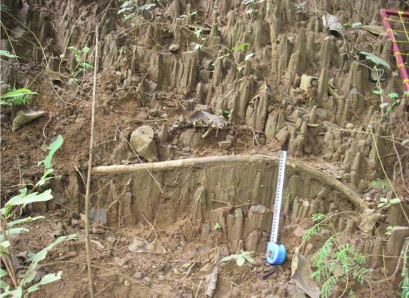 In 1998, the International Board for Soil Research and Management (IBSRAM) and the Asian Development Bank (ADB) formed the Management of Soil Erosion Consortium (MSEC) to assess the causes and the extent of soil erosion in South-East Asia. During this first phase (1998-2002), MSEC sought (i) to quantify erosion in small catchments cultivated according to local agricultural practices that were representative of those areas, excluding modern industrial farming, and (ii) to test alternative farming practices that would decrease land degradation and improve household livelihoods for communities inhabiting sloping lands and mountainous regions.
A second phase (2003-2010) of MSEC, supported by the International Water Management Institute (IWMI) and the Institut de Recherche pour le Développement (IRD), operated in Indonesia (until 2005), Lao PDR, the Philippines (until 2005), Thailand and Vietnam with national partners. The ultimate goal of this phase was to achieve sustainable development of watersheds by addressing the twin objectives of conserving resources and underpinning food security. IWMI, due to new rules of funding had to leave the consortium late 2010.
The IRD and its partners have then initiated a third phase (2011-2015): MSEC joined the French Catchment Network (SOERE RBV) and the International Critical Zone Exploration Network (CZEN). The Management of Soil Erosion Consortium was renamed Multi-Scale Environmental Changes in order to underline the multiscale environmental approach of processes impacted by global changes.
After evaluation of the SOERE RBV and MSEC in 2015, a fourth phase (2016-2020) is being planned, by joining both MSEC and BVET into a single CZO named Multiscale TROPIcal CatchmentS (M-TROPICS).